You've got the venue, you've booked the day. Reception is all planned and of course, you've sorted the catering. Most importantly, you're having our String Quartet at your wedding. But the next thing that you're wondering about is where and when do you want us?
When it comes to the big day, don't underestimate the role that live music can play. For this reason, there's no right or wrong when deciding when and where you want us to entertain you and your guests. (…Unless you want us outside in the rain or suspended from the ceiling. Actually, that last one might be worth a try…)
The Service
Whether you're getting married in a beautiful village hall, outdoors by a lake, in a barn or at one of Norfolk's amazing churches, we help set the scene for your guests. Our live music before the formalities begin is great to entertain your gathered loved ones. But more significantly, it really creates a magical pre-wedding atmosphere.
It goes without saying that your chosen pieces for the ceremony are crucial. Pick music that you really want. And don't worry if you love Pachelbel's Canon but don't think it's original. It's a masterpiece and we love it too! Furthermore, it's ideal for a processional as it can be finished nicely every 10-15 seconds. We can round it off seamlessly no matter when you / your partner arrive at the front.
If, however, you want an 80s power-ballad, that's great too! We can still fade out or finish appropriately when you / your partner finish walking. Likewise, we've had Nirvana's Smells Like Teen Spirit before now in a service – so please don't be afraid to be creative with your music choices.
We quite often play during the signing of the registers and there's usually enough time for two of your favourite pieces. We'll ask you to pick three, although we sometimes don't get round to the third one before… The last piece we play in the ceremony – the recessional. Don't worry if we didn't get chance to play your third choice – we can usually sneak it into a playlist later.
After you've tied the knot
Just after the service can often be a difficult time to plan. Having our String Quartet play for your guests whilst you're having photos taken is a perfect solution to any potential lull in energy. Your guests can unwind, talk and wipe away any tears of joy whilst we serenade them. This leaves you and your newly married other half to relax into your photos and catch a breath without feeling the need to rush back to your family and friends.
The Reception
You've done it, and it's all legal – a happily married couple. Congratulations! It's time to talk to your guests and come to terms with what just happened! Now is a great time to have a glass of something delicious and mingle. Moreover, it's also the ideal time for some background music. We're flexible and can change our music selections, gauging the vibe of your reception. You'd like some sophisticated and stylish classical music? No problem, we can play some Mozart. Alternatively, are you already starting to party? Again, not an issue, we can push out some of your favourite chart topping hits.
The Wedding Breakfast
Another option available for your day's entertainment is to have us play whilst you tuck into some food. It's an option that we've had fantastic feedback about when people have chosen us for dinner. Whilst you're refuelling your body, we can also nourish your mind with the sounds of our strings.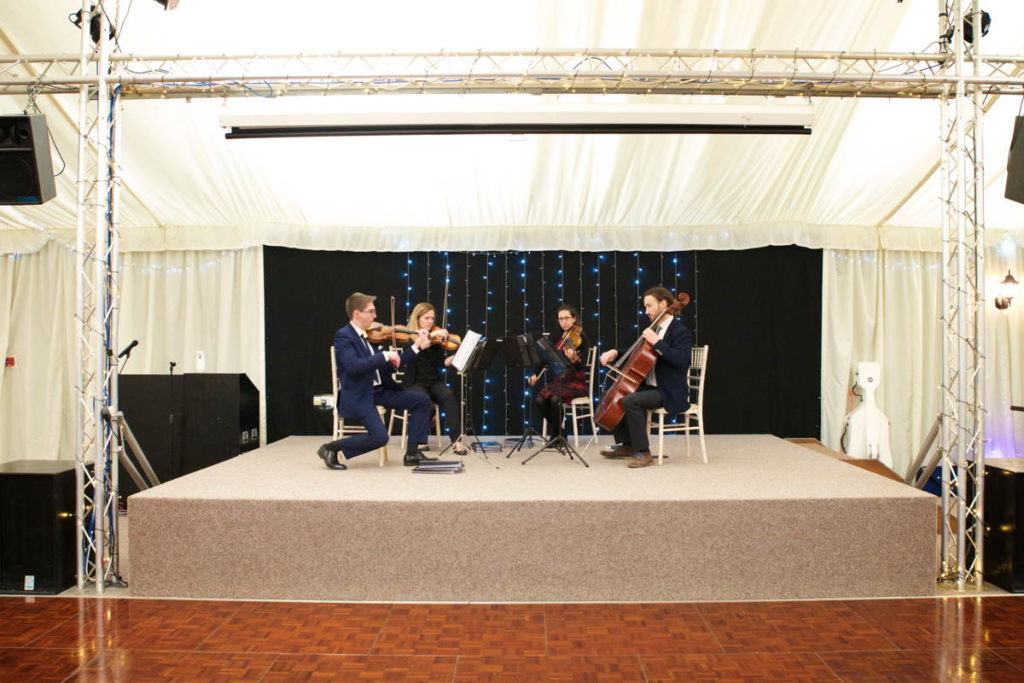 After Dinner
As time gets on, you might want to put on your dancing shoes. Or on the other hand, maybe you just want to chill out and relax after your first dance. Why not consider our new, Kavolini Band for your after dinner celebrations? It combines voice, string quartet and drums to create a sensational sound world.
The Band offers a range of tunes from old to new, upbeat or relaxed. Check out our demos and get in touch if you have any questions!
So there you have it, a few of our wedding string quartet options available to you on your big day. Of course, if you've got something else in mind – we're flexible, so just get in touch to discuss your plans with us! We're realistically affordable and will always try our best to work something special out for your wedding.
You want our String Quartet at your Wedding? When & Where do we play?