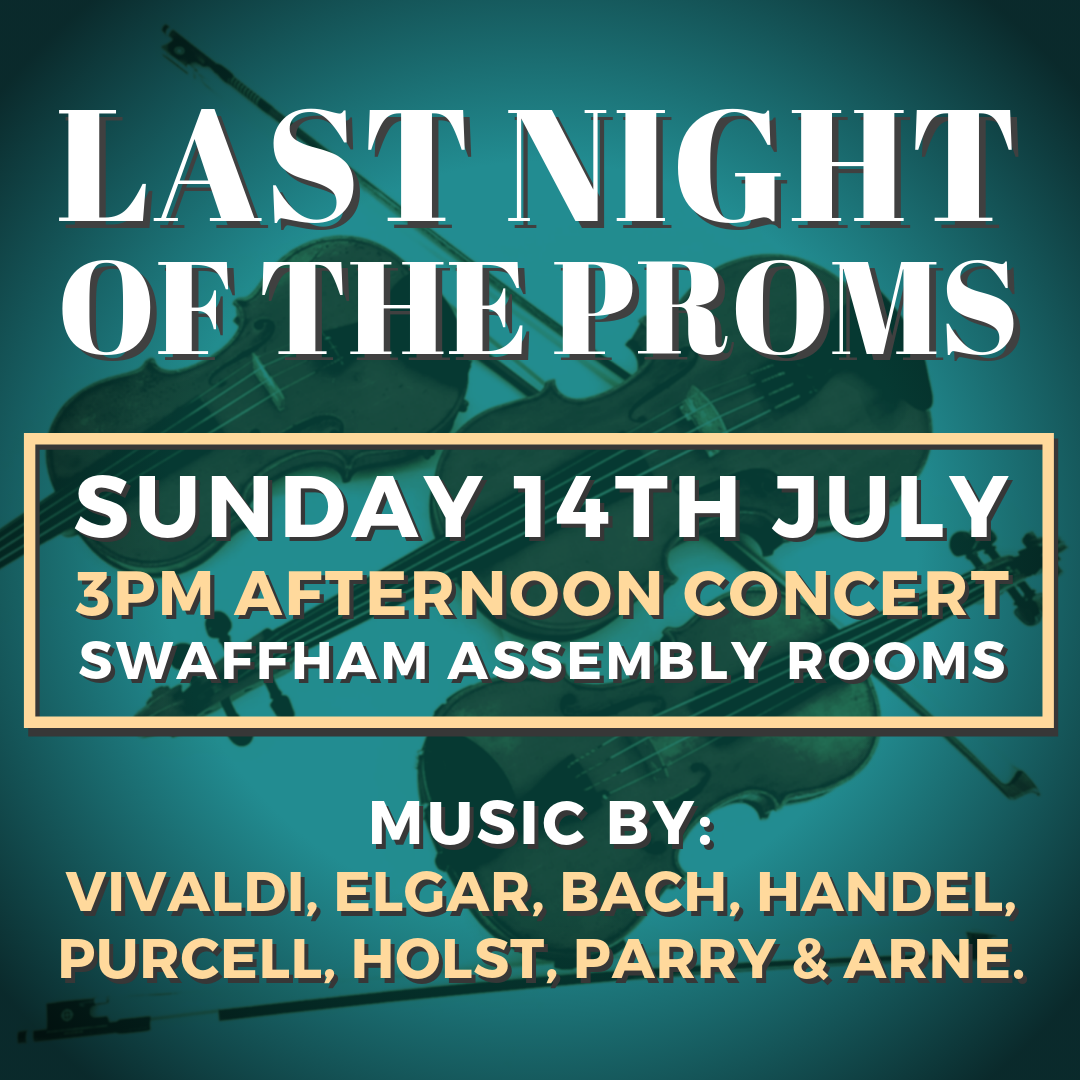 Last Night of the Proms – Swaffham
Join The Kavolini Chamber Orchestra, violinist Keith Hobday, and soprano Elle Oldfield in Swaffham for a joyous afternoon Last Night of the Proms concert. It has something for everyone. Families welcome & refreshments will be available.
Swaffham Last Night of the Proms Programme
ARRIVAL OF THE QUEEN OF SHEBA – Handel
'SPRING' – THE FOUR SEASONS – Vivaldi
AIR 'ON A G STRING' – Bach
CHACONY – Purcell
WATER MUSIC SUITE NO. 1 – Handel
'SUMMER' – THE FOUR SEASONS – Vivaldi
OMBRA MAI FU FROM XERXES – Handel
PIANGERO LA SORTE MIA FROM GIULIO CESARE – Handel
I KNOW MY REDEEMER LIVETH FROM MESSIAH – Handel
NULLA IN MUNDO PAX SINCERA – Vivaldi
LAND OF HOPE AND GLORY – Elgar
I VOW TO THEE MY COUNTRY – Holst
RULE BRITANNIA – Arne
JERUSALEM – Parry
NATIONAL ANTHEM – Arne
Tickets: Adults: £12 / Swaffham Arts members: £9 / Under 18: £5
Tickets available DIRECT from Swaffham businesses:
CERES BOOKSHOP: 01760 722504 / GREEN PARROT: 01760 724704
Some tickets are also available ONLINE (PLEASE NOTE A BOOKING FEE IS CHARGED BY EVENTBRITE):
Click HERE to book online through Eventbrite (Eventbrite booking fee applies)
Tickets will also be sold on the day (we will let you know if we sell out beforehand).
N.B. There's another chance to hear this programme at Overstrand's Cricket Ground on 28th July if you can't make it this performance.
Last Night of the Proms – Swaffham