Live music can play a huge role at Weddings. Our String Quartet is incredibly versatile – providing quality music and entertainment throughout your special day. Our passionate, professional and experienced musicians ensure a high quality experience. We'll ask you what styles of wedding music you'd like and we welcome specific song suggestions or vetoes!
We've listed a few ideas below of when and where you could choose to have us play. String Quartet bookings start from 2 hours, with 3 hours being the most popular choice. We're always happy to play for longer bookings though (e.g. when you know you'll want us to carry on playing into the wedding breakfast).
Service / Ceremony
Wherever you've chosen to tie the knot – on the bank of a peaceful lake, one of Norfolk's beautiful churches, or elsewhere, we create the perfect atmosphere for you and your guests. Having us play for 20-30 minutes before the ceremony really does set the scene before the service beings.
When it comes to the wedding ceremony itself – we are flexible in terms of music options. We'd normally play for the entrance of the bride, 2-3 pieces for the signing of the register and then the exit of the couple. However – we're sometimes asked to play a special piece as part of the service. Conversely, if you'd like the organist or another performer to play for part of the ceremony instead – that's no problem!
The ceremony music choices themselves can be music that allows you to really express yourself. We've played a huge variety of choices including music from Aerosmith, Nirvana, Disney, Star Wars and Taylor Swift. Of course, though, conventional choices like Pachelbel's Canon, or A Thousand Years are beautiful and excellent choices that really work too.
Reception
Just after the formalities is often when the photographer wants to take some time to get those all important snaps. It's also an ideal time for us to
entertain your guests whilst you or / groupings of guests are having shots taken.
After photos, we can carry on playing whilst you get stuck into chatting with your guests. It's worth mentioning that the beauty of live musicians means that we can tailor our setlist to match the energy of the reception.
Dinner / Wedding Breakfast Music
We're happy to offer the choice of playing music throughout some or all of the wedding breakfast. Depending on your wedding, it may well be the perfect accompaniment to your food. We've had great feedback from clients about our music through dinner. As a result, we really think it's an option to consider.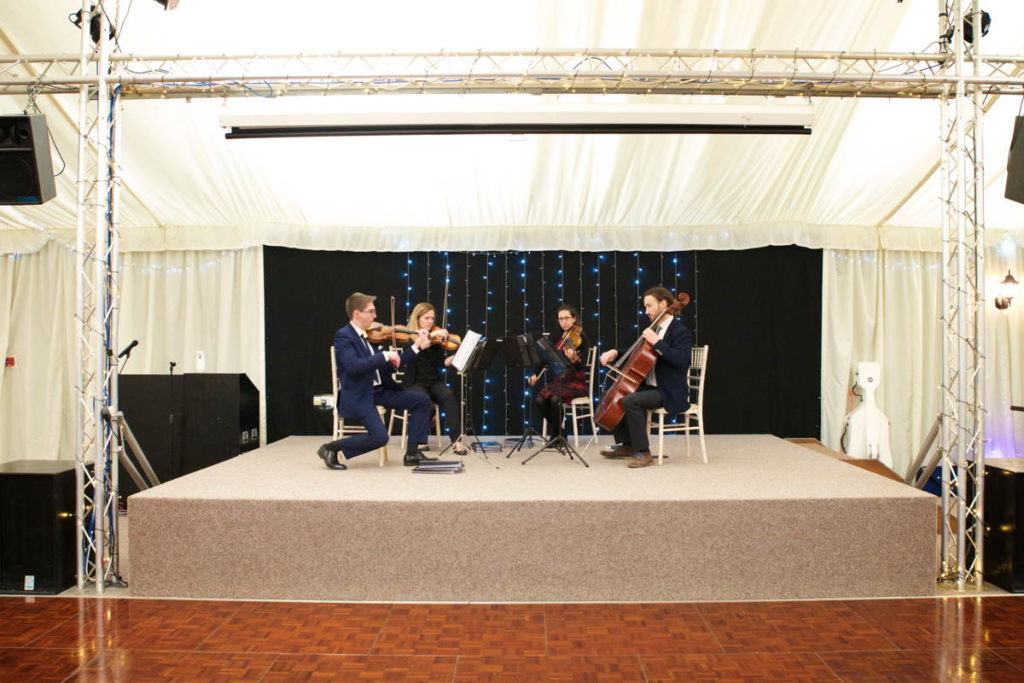 After the Meal
Our String Quartet rarely gets booked to play after the meal, but it's not out of the question if that's what you'd like. Our new, Kavolini Band, however, with voice, drums and string quartet may be much more suitable for this part of your day. We can provide a professional PA system to amplify our unique stylish, yet warm and natural acoustic sound.
The Band offers a great range of songs – current hits to golden oldies, high energy or chilled out. We'll play you into the late evening to keep you dancing. Alternatively, we can simply serenade you depending on what you're after.
Whether you are interested in booking our String Quartet, our Band or both, check out our demos on Soundcloud & get in touch with any queries. Additionally, you can contact us directly:
Quartet / Trio queries:
[email protected]
Call Kate: 07717 173090

The Band queries:
[email protected]
Call Rachel: 07871 214885